Kansas Football Team Earns Tostitos Fiesta Bowl National Team Of The Week Honors
Oct. 29, 2007
With their 19-11 win at Texas A&M, the Kansas Jayhawks (8-0) are the Tostitos Fiesta Bowl National Team of the Week for games of the weekend of Oct. 27.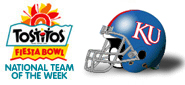 Brandon McAnderson rushed for 183 yards and two touchdowns on 21 carries as Kansas forged a 19-0 lead after a scoreless first half.
The eight straight wins gives Kansas its best record after eight games since the 1909 team was 8-0. The winning streak is also KU's longest since a 9-game streak in the 1951-52 seasons.
"It's been extremely exciting," Kansas quarterback Todd Reesing said. "We're thrilled to be where we're at right now."
Other Tostitos Fiesta Bowl Bowl National Team of the Week nominees for the weekend of Oct. 20 included:
– Connecticut (7-1): Andre Dixon ran for a career-high 176 yards and the Huskies defeated a ranked team for the first time in school history with a 22-15 decision over South Florida.

– Mississippi State (5-4): Anthony Dixon scored two touchdowns as the Bulldogs upset Kentucky, 31-14, in Lexington.
The FWAA has named a national team of the week since the 2002 season. This is the third season that the award has been sponsored by the Tostitos Fiesta Bowl.
Select members of the FWAA board of directors decide the weekly honor. Each Monday during the 2007 college football season, the FWAA will name the Tostitos Bowl National Team of the Week through Nov. 26.
Since 1971, the Tostitos Fiesta Bowl has hosted six games that have decided the college football national championship, including three Bowl Championship Series title games. Last season, the Tostitos Fiesta Bowl presented three post-season games, including the Insight Bowl and the BCS title game. This season the game will be played on Jan. 2, 2008 at University of Phoenix Stadium in Glendale, Ariz.
For more information on the Tostitos Fiesta Bowl National Team of the Week, go to www.footballwriters.com or www.fiestabowl.org.